More than a glow. A skin transformation.
DiamondGlow™ (Previously known as SilkPeel Dermalinfusion) is a next-level skin resurfacing technology that does more than just skim the surface. Experience skin that feels and looks luminous, nourished, and renewed immediately after the treatment. This is a non-invasive skin perfecting procedure that has instant and cumulative results. The DiamondGlow™ treatment will exfoliate the top layer of your skin and infuse professional, medical-grade serums into your skin.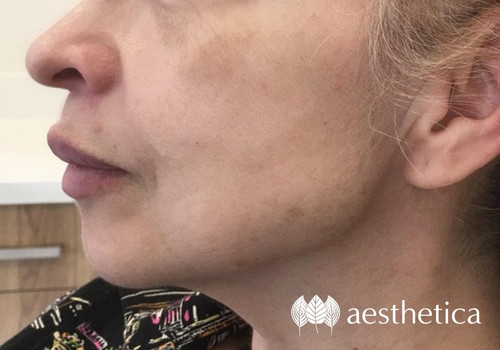 DiamondGlow™ treats every skin type and is a great option to treat any condition including:  
Fine lines & wrinkles

Rough and dehydrated skin

Dark spots and discoloration

Acne

Rosacea

Dull and congested skin
How does DiamondGlow work?
Post treatment skin appears:
Brighter

Fresher

Healthier

Smoother

Clearer- with unclogged pores

More even in tone
A brilliant offer just for you
DiamondGlow™ is part of Brilliant Distinctions®, the loyalty program that allows you to earn points and save on qualifying Allergan Aesthetics® products. Earn 150 ($15) Brilliant Distinction points for every DiamondGlow treatment. You can redeem these points for another DiamondGlow treatment, Botox, or Juvederm dermal fillers.
DiamondGlow Frequently Asked Questions
Who is a good candidate for DiamondGlow treatments?
DiamondGlow treatments are good for all skin types including sensitive skin making DiamondGlow a great introductory treatment for someone new to medical grade skincare treatments.
Do I need to change my skincare routine while getting DiamondGlow treatments?
You may need to make some changes to your skincare routine especially if you are using DiamondGlow treatments to treat a specific skincare condition. This is something that one of our Master Estheticians will go over with you to help you customize your treatment and make sure you are getting the most out of your DiamondGlow treatments.
Can DiamondGlow treatments be customized?
Yes. DiamondGlow treatments are highly customizable. DiamondGlow is designed to work with SkinMedica pro-infusion serums tailored to specific skin types and concerns. When you come in for your treatment, an Aesthetica Master Esthetician will evaluate your skin and recommend one of the four SkinMedica serums.   
Is there downtime after a DiamondGlow treatment?
No. Our goal is to rejuvenate your skin and let you get back to your regular activities. You may apply makeup immediately after the procedure. 
Get started on your journey towards smooth, plumped, hydrated, and healthy skin by scheduling your DiamondGlow treatment today! Call us at (801) 785-8884